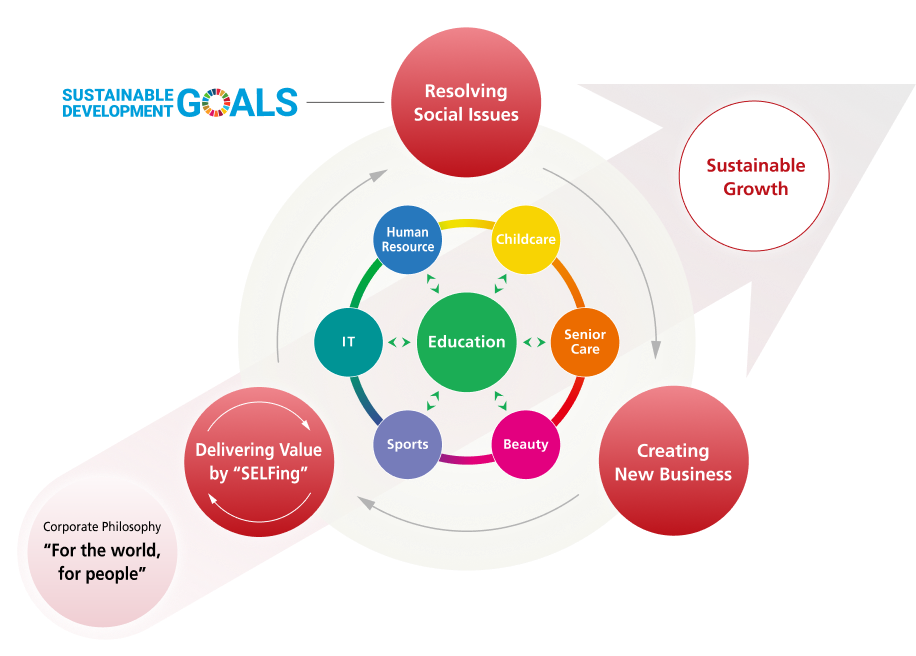 Corporate
Philosophy

For the world, for people.

For the world, for people.
Our mission is to contribute to society and people through our business.

Value
Promise

Venture out to discover yourself.

Your way of life all begins with envisioning "who you want to be".
Self-discovery and personal development are what leads to our contributions to society.
This looping cycle is what we call "SELFing".
"SELFing" is the value promise we offer all our stakeholders.
Our focus issues
Sustainable Developmental Goals (SDGs) was adopted in United Nations Sustainable Development Summit in 2015. Out of the 17 SDGs to be accomplished by 2030, we especially aim to resolve 8 goals for the realization of a sustainable world.
What We Can Do for the Future
Accept senior care technical intern trainees from developing countries.
Introduce international engineers to Japanese companies.
Deliver practical and communicative Japanese language education.
Our businesses play a crucial role in fulfilling SDGs,
and we pay attention to what changes our businesses bring about for people who choose to work and live in Japan.
Our focus has always been on people discovering their passions and dreams on their lifelong journey.