Message from the chairman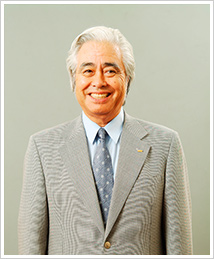 I have long held one thought close to my heart; no matter how much times may change, the capabilities and possibilities of people do not. My strong belief is that people are really at the heart of everything.
Our company name, "Human", comes from the conviction that all hopes and possibilities start with people.
There is a saying in Japanese, "To act for the world, act for people." When people act on behalf of each other and use their abilities for society, is this not the best way to achieve self-actualization?
Our modern era continues to change, creaking forward on rusty wheels. The era of lifetime employment and advancement by seniority has crumbled away. We have arrived at a rapidly aging society supported by apathetic youth. However, my closely-held thought is a truth that shows no sign of wavering. We must continue to ask ourselves what is the real meaning of our mission statement: "To act for the world, act for people."
It means free expression uninhibited by existing boundaries. It means a spirit that plays, a spirit that learns. And it means that at the heart of everything, there is an excitement that comes from acting for people and acting for society. That excitement becomes a motivating force and serves to carve an unwavering conviction in our hearts that through our business we can help make a better society.